On 11th May 2022, AGN UK NextGen members gathered in Edinburgh.
The conference followed the theme of the early stages of an accountant's career – the major challenges an individual faces as they progress from trainee to partner.
(For comedy effect, the idea was captured by the use of the character 'Fleabag' from the UK comedy-drama hit of the same name, starring Pheobe Waller-Bridge 2016-19 – Chris presented how this young, particularly dysfunctional but assertive individual might respond to the various challenges through the day).
Delegates were divided into small teams to discuss questions about the character's journey – a mix of presentations, interactive sessions and quizzes with prizes made for an engaging and valuable experience.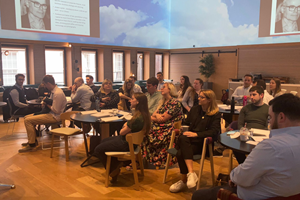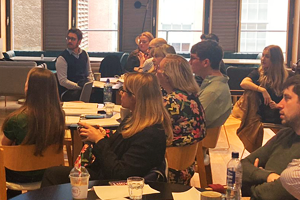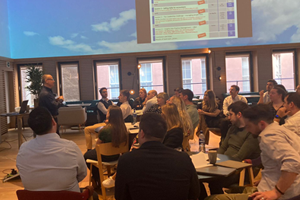 CHAPTER 1: PRESENTATIONS
NextGenners talked about their own experiences of giving presentations (good and bad) in their teams, delving further into what didn't work and why?
The delegates also watched a Ted Talk analysis video by Amy Cuddy – Social Psychologist, professor and researcher at Harvard Business School. The video focuses on body language and how a few strategic power poses can make a difference in our self-confidence and stress levels.
Participants also discussed other solutions to help overcome her fears and deliver a successful presentation.
CHAPTER 2: SELLING
Neil Norman – Senior Tax Partner at Chiene + Tait, presented his insights into what it takes to be a good salesperson.
CHAPTER 3: LEADERSHIP
Jonathan Timmis at Lunesdale Consulting presented 'The Leadership Challenge – Managing People and Clients.
Jonathan talked about the difference between leadership and management, the various styles (autocratic, democratic and laissez-faire), and ways to engage and motivate your team. Team activities equipped NextGenners with fresh thinking and new approaches.
CHAPTER 4: INSIGHTS INTO PRACTICE MANAGEMENT
Imagining that our delegates had progressed to a managing partner role, they were able to explore the challenges of that responsibility through a panel discussion with three managing partners.
Carol Flockhart – Managing Partner at Chiene + Tait (Accounting profession), led a Q&A session with panellists Stuart Hendy – Senior Partner at MBM Commercial LLP (Legal profession) and David Ovens – Co-CEO at Archangel Investments Limited (Investment profession) to find out.