In a thrilling culmination of teamwork and innovation, the 2023 AGN NextGen Program 'Road To Tokyo' has crowned its champions. Congratulations to Michelle Taschereau-Thorpe – Manager – Condo Audits at Adams + Miles, Canada; Nathan Davis – Consulting Manager at CT: Accountants Advisers, UK, and Caleb Macaluso – Tax Manager at Clark Schaefer Hackett, US.
Road To Tokyo – A Digital Transformation Journey
Road To Tokyo participants embarked on a digital transformation journey, embracing the future of our industry.
In teams of three, carefully curated from AGN's international membership, they tackled two substantial challenges that enriched their knowledge and brought valuable insights into their firms' digital transformations. All Road To Tokyo participants made monumental efforts and significant contributions.
Road To Tokyo Winning Team
With their diverse expertise, Michelle Taschereau-Thorpe, Nathan Davis, and Caleb Macaluso showcased exceptional teamwork and strategic thinking, proving that the future belongs to those who embrace innovation and collaboration in equal measure.
The prize for their extraordinary efforts? An all-expenses-paid trip to the highly anticipated 2023 World Congress in Tokyo.
To get a glimpse of the personalities behind the achievements, a <two-minute video has been released featuring Michelle, Nathan, and Caleb sharing their key takeaways from the program.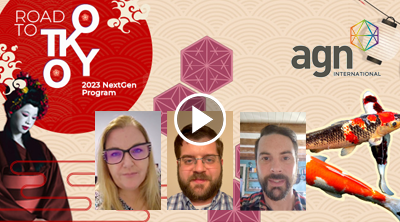 Attendees of the World Congress in Tokyo are encouraged to seek out Michelle, Caleb, and Nathan to glean firsthand experiences from their involvement in the program. Their perspectives promise to be invaluable for professionals seeking to navigate the challenges and opportunities presented by the digital transformation revolution.
The 2023 AGN NextGen Program 'Road To Tokyo' has not only crowned a winning team but has also set a new standard for excellence in the accounting industry's digital transformation journey.
All program participants serve as beacons of inspiration for the next generation of accounting professionals in an industry that continues its rapid evolution.